art work Habiba Shenza, photo Bob Frith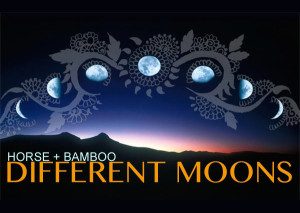 Background
The Different Moons arts and heritage project was started in 2013 by Horse and Bamboo's Joint Artistic Director Bob Frith with Project Lead Artist Shamshad Khan. The project was developed with input from women artists and  local practitioners  including Habiba Shenza, Mariam Golubeva, Arry Nessa, Hameeda Mahmood, Yasmine Choudry. Different Moons developed as part of Horse + Bamboo's endeavours to engage with their local Asian communities. Using workshops devised by Shamshad to engage different groups, the initial idea was to record and share the history and stories of some of the many individuals from Pakistan, Bangladesh and India who came to Britain after the Second World War and settled in Rossendale, particularly in Haslingden and Rawtenstall. 
Different Moons used the stories recorded from the first generation immigrants to inspire and encourage women and the younger generation of South Asians living locally to express their own feelings and ideas. The project included an exhibition at The Whittaker, Rawtenstall. The recordings, poems, animations and stories collected and created are available on www.differentmoons.org.  See below for the Different Moons publication.
Poems and the writing groups
The poems, accounts and stories presented in the Different Moons book includes work from the main groups who took part in the Different Moons workshops: women, young girls and children. We have succeeded in including a few words from nearly every single one of the over one hundred and thirty participants who took part in the writing workshops, either as solo pieces of writing or joint pieces made up of lines or verses from a number of individuals in the group.
Poet Shamshad Khan directed and led all of the Different Moons poetry workshops. There are intimate and beautiful poems written by the Haslingden Community Link Women's Group; defiant and tender letters and poems by young girls from two Haslingden girls' groups; and quirky and surprising stories written by pupils from the Rossendale Valley Islamic Supplementary School, Haslingden and St Mary's C.E. Primary School, Rawtenstall. 
From 2014 to 2016 the project was supported by the Heritage Lottery Fund.  With thanks to The Ahmed Iqbal Ullah Resource Centre  for sharing interview and workshop models.
FREE PDF: Download the Different Moons book
cover image: papercut and photograph, Maryam Golubeva