Want to help us fundraise for a fantastic organisation?
Together our contributions have already made a difference. The report here shows how and who the money has helped.
If you are feeling blessed and would like a way of extending your support to others – Here is a beautifully simple and reliable way of your contribution making a big difference. 
Simply share a little of your resources with people in Ahmedabad, Gujarat, one of the areas of India hardest hit by Covid 19.
With the help of trusted organisations and individuals, like my very good friend Prita and her colleagues who have regular contact with vulnerable families in Gujarat,  the charity Manav Sadhna are extending their work to distribute food kits in a really targeted way.  Served by and Serving people of all faiths.
Please click on the link below to donate
This is how your money will make a difference:
£10 – pays for food kits for 2 families
£100 – pays for food kits for 20 families
"In each kit along with 4 kg rice, 4 kg wheat flour, 1 kg dal and one kg oil; we also put one soap and two face masks. 1 kit costs 450 Rs and feeds a family of 4 for 12-13 days."
I will collect funds through my JustGiving page and forward the funds directly to Manav Sadhna. Prita Jha and her colleagues will arrange to pick up the food kits funded by you and distribute them to the vulnerable families they are in contact with. These include women, children and those unable to work due to lock down restrictions.
(N.B. cover image – migrant workers receiving snacks for their long train journeys home, delivered by Prita's team in Anand before lock down)
Manav Sadhna explains what they are doing to help the most vulnerable people in their area, embodying their motto – Love all serve all. More information and links to their work below:
Just as the portal of this pandemic has sharpened the reality of global inter-dependence; sharing our given privilege at this time deepens our joy.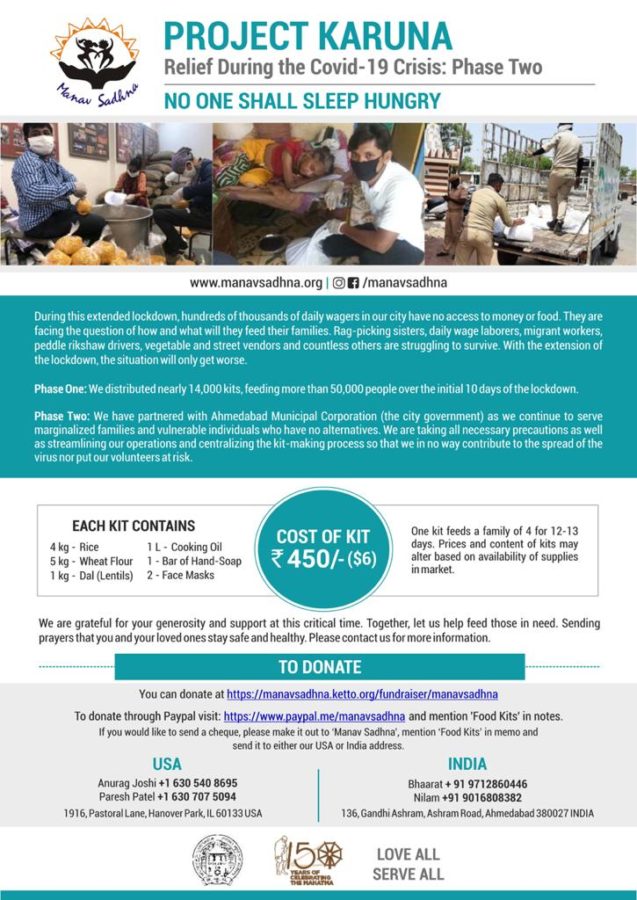 With love and appreciation