The Moonwatcher is a show that combines poet Shamshad's insightful and thoughtful poetry with Horse + Bamboo's trademark use of powerful narrative and imagery, using masks, puppetry, film and music. A stunning multimedia show. The Moonwatcher asks where do any of us really belong?
 Please scroll down for The Moonwatcher video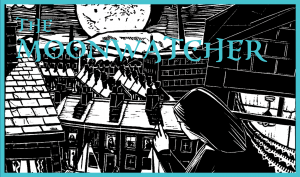 Written and Directed by
Bob Frith and Shamshad Khan
Music by
Arun Ghosh
Animation by
Kain Leo
Audience feedback:
"Such a compelling story, so innovative and with the puppet – human dynamic brought something completely original to theatre." Royal Exchange Studio, Manchester
"It was a poignant story of love and courage… I really enjoyed the poetry and the stagecraft." Heaton Community Centre, Newcastle
"What an incredibly moving & powerful show. Fantastic music, visuals & most of all performance by brilliant actors. Lovely show". Royal Exchange Studio, Manchester
"It was extremely moving and beautiful – Very privileged to have hosted the show." Sarah Punshon, artistic director, The Duke, Lancaster
The Moonwatcher was inspired by families in Haslingden and Rawtenstall who engaged with the Different Moons arts and heritage project between 2013 and 2016 and themes Shamshad shared from her own experience and insights.
A young girl travels half way around the world to be with her husband. A generation later, her daughter now struggles to find where she belongs. The Moonwatcher is their story; how their different values impact on the complex relationship of one mother and her daughter.
The Moonwatcher Tour, February-March 2018
The Dukes, Lancaster; The Met, Bury; The Grand, Clithero; The Studio, Royal Exchange, Manchester; Seven Arts (in association with SAA), Leeds; The Boo, Rossendale; Universal Hall, Moray; Heaton Community Centre, Newcastle; Unity Hall, Nelson
Below The Moonwatcher Promo with selections from the performance at the Boo.
THE MOONWATCHER WAS PERFORMED BY
Gemma Khawaja as Rahmi and Hannah Kumari as Azrah
THE MOON WATCHER CREATIVE TEAM
Written and directed by Bob Frith and Shamshad Khan
Music composed and directed by Arun Ghosh
Visual story by Bob Frith
Poetry/spoken script by Shamshad Khan
Set design and make by Bob Frith, Gretchen Maynard-Hahn
Puppets created by Gretchen Maynard-Hahn
Suitcase scenes created by Alastair Price
Masks created by Bob Frith
Costumes and family photos -« the Khan family
Animations by Kain Leo
Haslingden Film by Daniel Whelan
Lighting design by Phil Milston and Leon Smith
Stage manager ~ Leon Smith
Puppet Consultation by Mark Whitaker
Produced by Esther Ferry-Kennington
Many thanks to the following for their help
The Horse + Bamboo staff team
STUN studio, Manchester for use of space. The Khan family and Ahmed
Masoud for feedback on the script. Rose Bibby, Paul Hartley from InSitu
and Arry Nessa. The Different Moons interviewees and participants from
Rossendale and the Khan family who inspired the story line.
Nelson Outreach project
Project Manager and deviser: Shamshad Khan. Lead Artist: Zara Saghir,
Hannah Kumari, Sarah Yaseen, Jenefa Begum, Mum2Mum group
participants at Marsden Heights College. The Rickshaw artwork at Unity
Hall – Zara Saghir with thanks to the outreach team.